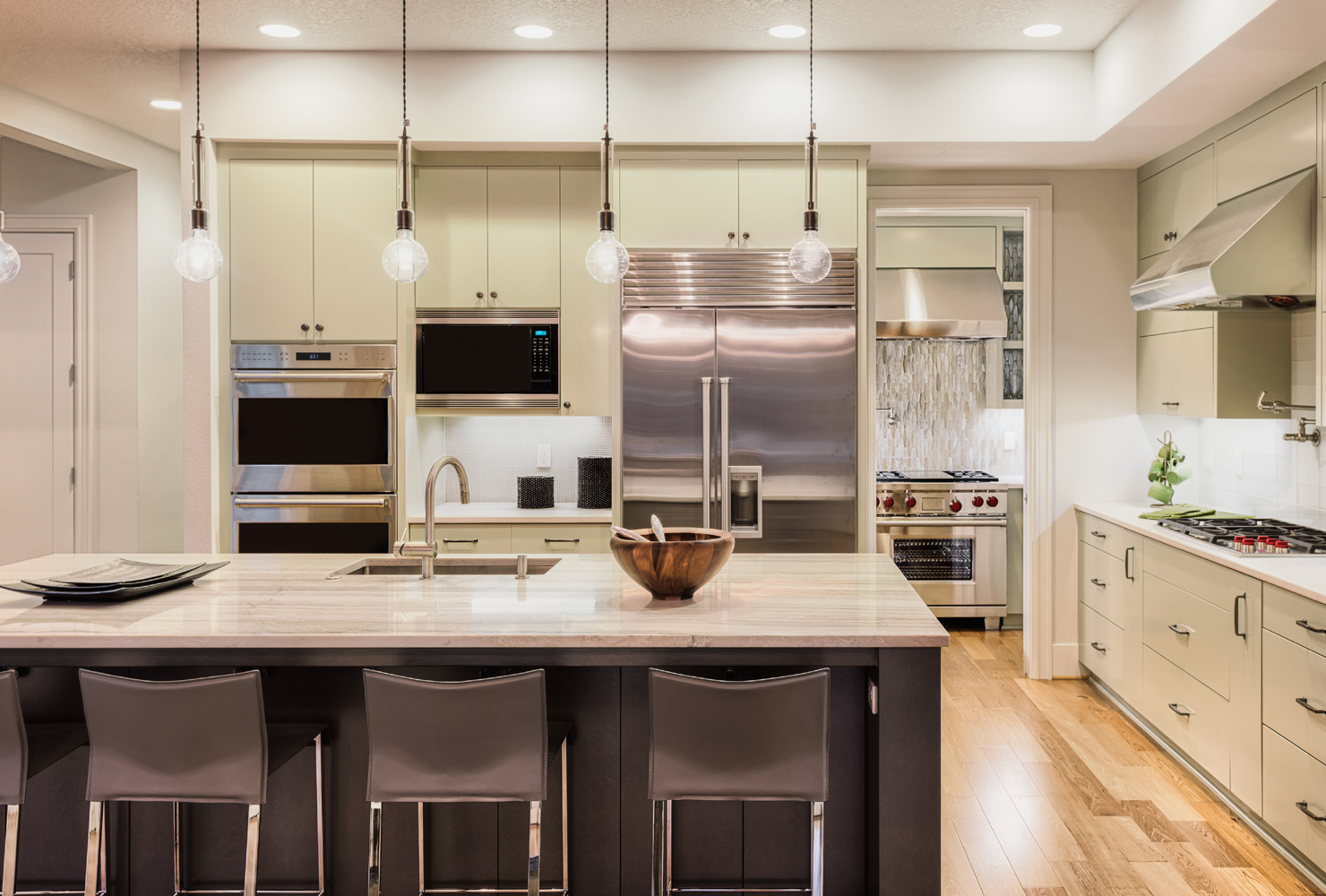 Whether or not you're a regular viewer of HGTV's Fixer Upper, it can be difficult to keep up with the latest trends in kitchen and bathroom design.
Yet those rooms are obviously some of the most important in any house, and are usually the areas that homeowners focus on when looking to update their space.
For those who might not be sure what the best material is for a countertop, what colors really make a kitchen pop and what overall style best suits their family, it's important to have an experienced designer on the project. Luckily, we have quite a few in our area, and House & Home spoke to several to find out the hottest trends in kitchen and bath design and common mistakes to avoid.
KITCHEN ESSENTIALS
When entering into a project of this magnitude, experts agree that it's important to look ahead and make sure you're choosing products that you'll be happy with for years to come.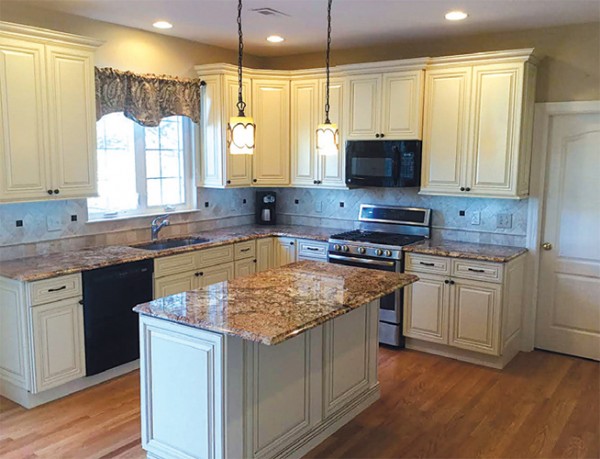 That's especially true when choosing the color and style of kitchen cabinetry.
"For the most part people are either going with a dark deep cherry or they're going for painted white or painted cream for the cabinets," says Doug Mottershead, CKB, of McHales Inc. "The door style is a different story. Years and years ago the cut of the door was always raised panel cathedral. Then in more recent times, simplicity took over and shakers were the big thing.
"But now I'm noticing that people want the simplicity of the shaker, but they also want a little bit more than just plain shaker. So Kraftmaid recently came out with a door that has a bead that goes around the shaker frame. It adds a little flair to it and people seem to be going in that direction."
David Cerami, CKBR, of HomeTech Renovations adds that in addition to door styles, there are a variety of colors and textures to make the kitchen cabinetry stand out.
"We've seen the return of some of the traditional darker colors: the richer walnuts, chestnuts and butternut," he says. "These warmer, richer colors tend to be really popular. Each wood is sort of like a piece of art unto itself."
As for what's inside the cabinets, people are seeking to maximize the space and the ability to easily access the items they need.
"I think one of the big trends is tricking out the inside of the cabinets to really give you what you need for storage," says Tim Pesce of Beco Kitchens and Baths. "Lazy Susans have been around for a stretch, just like spice drawers, but there are some other design features to really customize what people want. They can hold specific containers, cooking utensils and things along those lines."
"People love storage," agrees Jon Atkin of Doylestown Building and Remodeling. "An example might be a pan drawer. You pull out the drawer and it has wood pegs in it for you to set your pans in their exact location. Before, they'd be chucked in a cupboard on top of each other.
"And virtually every kitchen we do we're able to upgrade with under-cabinet LED lighting."
Another major decision in kitchen design is what material to use for the countertops. While granite remains a top seller, another product is starting to challenge its supremacy.
"As far as tops go, I would say quartz is a really popular material that people are using," says Megan Nowicke of Exquisite Designs Bath & Kitchen Showroom. "Caesarstone is one of the top companies, and they're able to make tops that look like a Carrera marble or other stones without the maintenance and upkeep that the natural stones require. They're a lot easier to clean and maintain."
"These days people are looking for lighter colors," says Tony Kellegoz of Premier Marble & Granite Design. "Quartz is more inexpensive and it has solid colors because it's man-made. Granite is still popular as well, but quartz has more of that European look."
Although quartz and granite are at the top of the list, Cerami encourages homeowners to think outside the box.
"I like to see a lot of clients move into concretes of various colors and textures," he says. "Metals are really interesting, as are wood tops.
"Of course granite is always out there, but granite is kind of boring in terms of traditional polished finishes. What we've been doing here for over 10 years is, we actually take granite and sandblast it and wirebrush it. We create a different texture on the stone itself, so it gives it a little different appearance than that bright shiny look."
For backsplashes, there is a seemingly endless list of options, including traditional tile, metal or wood. Scott Kingsland of Glass Castle adds that his company has also become heavily involved in that area of the kitchen.
"We've actually seen an uptick in back-painted glass used in a backsplash application," he says. "You can get custom back-painted glass so the glass is the same color as the wall, or you can contrast it. The glass backsplash in a kitchen is nice because it's easy to clean off."
Finally, the flooring of a kitchen, like the backsplash, acts as the finishing touch for the room. Larger tiles and traditional hardwoods remain top choices in our area, but Mottershead is seeing a lot of interest in COREtec vinyl flooring, which has the look of hardwood but is impervious to water.
BATHROOM TRENDS
A trend that's been going on for several years in bathrooms is the move toward walk-in showers and the elimination of large bathtubs. This concept shows no signs of slowing down.
"We do a lot of walk-in showers," Atkin says. "People are taking out the Jacuzzi tubs that came with a lot of the homes built in the last 20 to 30 years and putting in walk-in showers in that same space. I would say 95 percent of Jacuzzi tubs do not get used, so it's really a waste of space."
"Everybody is taking out the Jacuzzis and doing free-standing tubs," agrees Nowicke. "I feel like that's a universal thing, no matter what design you're going with."
With or without an accompanying free-standing tubs, the walk-in showers are usually much larger than in the past and may contain a seat or other amenities.
"It seems like the shower space is getting bigger and bigger," Kingsland says. "Shower doors used to be 12 square feet and now we do a tremendous amount of showers that are 20 square feet, if not bigger.
"Probably 95 percent of the shower doors we put in now are clear glass; that's another trend. The shower used to be kind of a private space, but now it's incorporated into the bathroom. That does a couple of things: it opens up the bathroom and makes it feel bigger, as well as showing off some of the tile work and fixtures in the shower."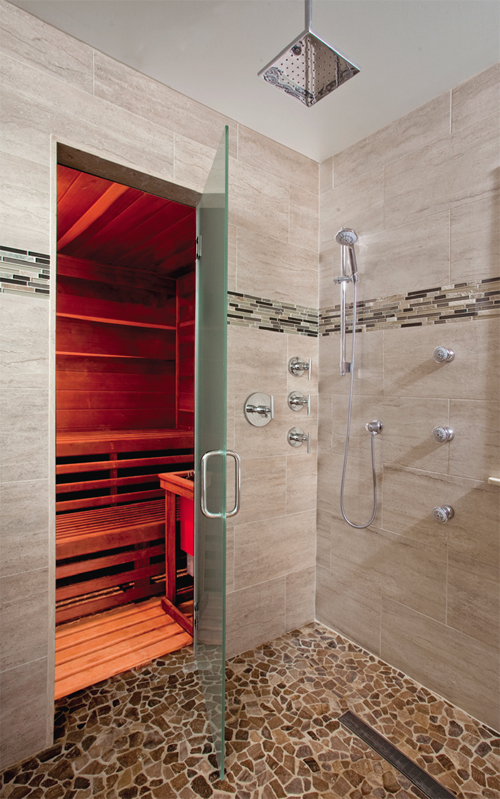 Cerami says barrier-free showers have also been catching on, for their easy accessibility as well as their design aesthetic. But Pesce warns that barrier-free showers might not be ideal in this climate.
"It is easier to clean and it makes movement around the shower a lot easier too," he says. "The big problem is that we're not in Florida: That design really took hold in warmer weather; now you bring it up North and it's a different situation. You're fighting to keep some of that steam and heat in the shower so the person doesn't get cold."
One bathroom amenity that clearly makes sense in this part of the country is a heated floor.
"When your feet are warm, it's amazing how your whole body feels warm," Mottershead says. "The heated floor is a luxury item that has a little added cost to it because of the increased labor time. ... But I would say one of every five bathrooms has that."
PLANNING TIPS
A kitchen or bath remodel has a lot of moving parts and can be overwhelming for homeowners. Cerami says a crucial early step is to find an experienced designer and put your trust in him or her.
"The people who are more open and allow a good designer to do the things they're trained to do and have been successful at, the better the projects become," he says. "It allows for artistic expression that really speaks to the personality of the homeowner."
Atkin adds that homeowners shouldn't expect a brand-new kitchen or master bathroom in a week.
"It takes time to do a project like this," he says. "We strongly recommend that homeowners don't take the bait from what they see on TV remodeling shows. They are designed to give you an understanding of the industry, but they're not very realistic in time frames, costs or unforeseen circumstances."
RESOURCES
Beco Kitchens and Baths
Morrisville, Pa. | (215) 240-4850
Beco-Designs.com
Doylestown Building and Remodeling
Doylestown, Pa.
(215) 297-8600
DoylestownBuilding.com
Exquisite Designs Bath & Kitchen Showroom
Wayne, Pa.
(484) 584-4120
ExquisiteDesignsPhilly.com
Glass Castle
Lawrenceville, N.J.
(609) 530-1115
GlassCastle.com
HomeTech Renovations
Fort Washington, Pa.
(215) 646-7477
HTRenovations.com
McHales Inc.
Levittown, Pa.
(215) 493-3399
McHales.net
Premier Marble & Granite Design
Freehold, N.J.
(732) 294-7891
PGMarble.com
Second & Third photos courtesy of HomeTech Renovations
Published (and copyrighted) in House & Home, Volume 17, Issue 4 (October 2016).
For more info on House & Home magazine, click here.
To subscribe to House & Home magazine, click here.
To advertise in House & Home magazine, call 610-272-3120.