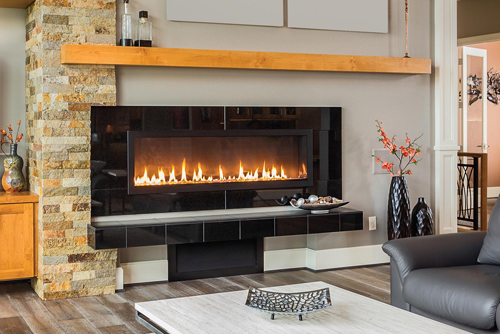 A HOME with a fireplace just feels more luxurious. Can't you see yourself lounging in its glow, embracing the crackling ambiance or hanging holiday stockings on the mantel? Today's fireplaces can provide all of this and more, offering modern appeal with cleanliness, efficiency and a variety of styles to fit any taste.
Finding the best fit
Fireplaces are not a one-size-fits-all product. Their designs, sizes and types vary, making it easy for homeowners to choose the one that fits their particular tastes and lifestyle.
Fireplaces can be fueled by gas, wood or electricity, and freestanding stoves can be gas, wood or pellets, explains Gerry Kester, owner of Kester Fireplace. There are also fireplace inserts and gas logs, which go into existing fireplaces. Gas fireplaces can be "direct vent" which require a ventilation system connected to the outside to remove exhaust and bring in air, or "unvented," which require no exhaust and are 99.9 percent efficient, Kester says.
Dave Rettinger, co-owner of Rettinger Fireplace Systems, says that part of the allure of natural gas is that it can be very efficient depending on the type of gas-burning appliance you choose. Some direct-vent fireplaces and stoves can be up to 87 percent efficient, while a vent-free product can be 99 percent efficient. He notes, though, that a person with sensitive respiratory issues "may not be the best candidate for a vent-free product."
In recent years, gas has become the favorite. "Gas has definitely become the most popular," says Mike Evanick, president, E&E Chimney Sweeps. "It's very clean and can be thermostatically controlled. There is more dirt and work with wood." Gas-powered stoves have proven to be a smart idea, too. "Stoves can heat 1,000 square feet to 3,500 square feet, but make sure yours has been sized for your house," he says.
Sam Stoltzfus of LanChester Grill & Hearth says that gas options are also versatile. "There is a huge range to fit any décor. There are so many different looks and styles," he says. Some of the brands he prefers are Mendota fireplaces, Fireplace Xtrordinair and DaVinci Custom Fireplaces."DaVinci has one built into a four-sided island, one that is 50 feet long, and you can have fireplaces on all night and they're not hot to the touch," he says, which is particularly appealing for anyone with children in their home.
"There are so many choices out there for consumers," says Ed O'Sullivan, of Newtown Fireplace Shop. He works with customers to narrow down their fuel preference, which he says "depends on what the customer would like to get from the appliance and what their expectations are." He says that aesthetics often drive consumer purchase decisions and that most consumers know what they want their fireplace to look like and how they want to operate it. "It's a balancing act to get them what they want and figure out what can be done safely, all while staying within their budget," he says.
Loyd Miller, president of Alber's Fireplaces, adds that direct-vent gas inserts are becoming much more popular as an additional heat source for the home, and that electric fireplaces are increasing in popularity as well.
In addition to heat-output options, homeowners can consider masonry, façades, mantels, log style, glass, hearth pads and screens and doors, says Jenna Guldin, sales manager of Salter's Fireplace & Stove Shop. "There are different manufacturers which offer different styles." She suggests consulting a fire design expert about customizing the fire feature to your lifestyle and budget.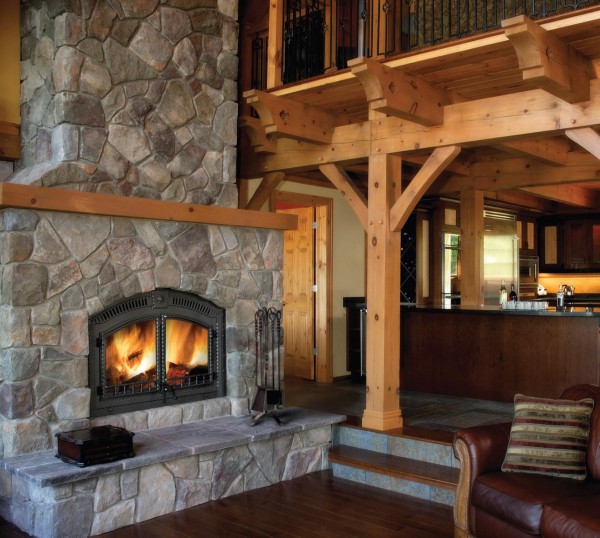 Maintenance expectations
When it comes to maintenance, "most fireplaces [need] little to check beyond the annual cleaning," says Stoltzfus.
Although commonly viewed as maintenancefree, gas fireplaces will still "require annual inspections/ maintenance to ensure proper safe operation," says O'Sullivan.
Service on a gas unit is fairly simple, but is important to do, especially unvented units, says Kester. "One of the most common mistakes is to rearrange the log patterns other than what the manual requires," he warns.
Because you don't need to worry about real flame or chimney cleaning, electric units are the easiest to maintain, says Guldin. Wood and pellet-stoves and fireplaces require much more maintenance and cleaning, she adds.
For those who love burning wood, which Rettinger calls a lifestyle, you'll need to purchase seasoned wood, bring it inside, load the fireplace, maintain the fire and deal with the mess. He says it's recommended that the chimney be swept after every cord of wood to keep the chimney as clean as possible and free from creosote build-up. "Wood burning also requires a full vertical vent and the installation will probably take more time than a directvent fireplace," he says.
To support all this, Evanick says that NFPA (National Fire Protection Association) standards dictate that chimneys, fireplaces and vents must be inspected at least once a year, with the additional focus being on correct clearances, maintenance and overall soundness of the construct. "Wood/pellets fireplaces and stoves need to be cleaned yearly, but gas can be serviced every one to two years since it doesn't produce much dirt," he says.
Finding a home
Today's technology advances have made it easy to put a fireplace anywhere in a home, says O'Sullivan. "The most common place would still be a living/family room [but] we are seeing more people wanting fireplaces in other areas of the home—bathrooms, bedrooms, basements, etc.," he says.
There is a fireplace unit for every room, says Kester. A wood-burning unit has many regulations and requirements as to where it can be placed, so [they] are "usually placed in a living room, den or family room," he says. A vented gas-burning unit can have a powered exhaust, allowing units to be placed in many locations. Unvented gas units can be in almost any room except for small bedrooms and bathrooms, he says.
"If starting from scratch, where there is no fireplace at all, most people choose the family room or living room," says Miller. "Adding a fireplace to the bedroom has become much more [sought-after] and seethrough/ two-sided fireplaces have also become popular between dining rooms and living/family rooms."
Many people have dramatic style fireplaces and stoves in their most-used areas, says Alexis Rettinger, co-owner of Rettinger Fireplace Systems. One outside model, The Palazzo by Heatilator, offers an eye-catching single-sided or seethrough unit that is built with rust-resistant, marine-grade stainless steel that can resist even in the harshest conditions," she says. "It includes a tempered glass wind-guard that keeps the flames full and lively, along with an industry-first power screen to ensure safety and prevent debris from entering the fireplace."
Converting a current fireplace
Many people have chosen to get their old fireplace replaced, mainly because homes were mass-built and the cheapest fireplace was installed, says Stoltzfus. "This can be done quickly and easily without changing your interior façade, with few exceptions. It can be a one-day fireplace replacement and you'll get a well-insulated high-efficiency fireplace," he says.
Kester says an existing woodburning fireplace can be converted into a gas, pellet or electric unit, as well as an efficient woodburning unit. Figuring what is best requires an on-site inspection. "This way we can confirm the correct measurements, make sure it can be properly installed and make sure the customer gets the best unit for each location," he says. "It's very important with every installation that a hearth specialist be consulted as there are specific rules and clearances for all installations."
Professionals will let you know of any limitations to conversions. "The existing fireplaces that can be converted are wood-burning fireplaces or ventfree fireplaces that were originally a separate firebox and had a gas log set installed," says Miller. Direct-vent fireplaces have specific media choices and limit changes. Converting options may include direct-vent gas inserts, gas log sets or glass burners, he says.
Depending on age and status, a complete removal of the existing fireplace and replacement with a more efficient, modern unit may be necessary, says Guldin. "If they have an existing masonry wood-burning fireplace, we can add a modern insert or media burner into the opening … as well as refinish the façade of the fireplace. Some manufacturers even offer change-out programs with discounts on new units to encourage energy efficiency."
"We rely heavily on the codes set forth by The National Fire Protection Association (NFPA) and encourage clients to [have an NFI Certified installer] install their fireplace to be certain they've met all the current enforced codes," says Alexis Rettinger. Also, contact your township for fireplace permit information.
No matter what you want to do, to get the best results, visit the right professional, reminds Evanick. Make sure they explain everything and won't sell you products until they're sure what you really need, he says.
Resources
Alber's Fireplaces
Green Brook, N.J.
(732) 629-7444
AlbersFireplaces.com
E&E Chimney Sweeps
Fairless Hills, Pa.
(215) 945-2200
EESweeps.com
Kester Fireplace
Willow Grove, Pa.
(215) 657-6660
KesterFireplace.com
LanChester Grill & Hearth
Gap, Pa.
(717) 442-8794
LanChesterGH.com
Newtown Fireplace Shop
Newtown, Pa.
(215) 968-3981
NewtownFireplaceShop.com
Rettinger Fireplace Systems, Inc.
Voorhees, N.J.
(855) GET RETT
RettingerFireplace.com
Salter's Fireplace & Stove Shop
Eagleville, Pa.
(610) 631-9372
Hatfield, Pa.
(215) 362-2443
SaltersFireplace.com
Published (and copyrighted) in House & Home, Volume 18, Issue 3 (September, 2017).
For more info on House & Home magazine, click here.
To subscribe to House & Home magazine, click here.
To advertise in House & Home magazine, call 610-272-3120.