Valuable Bathroom Fractions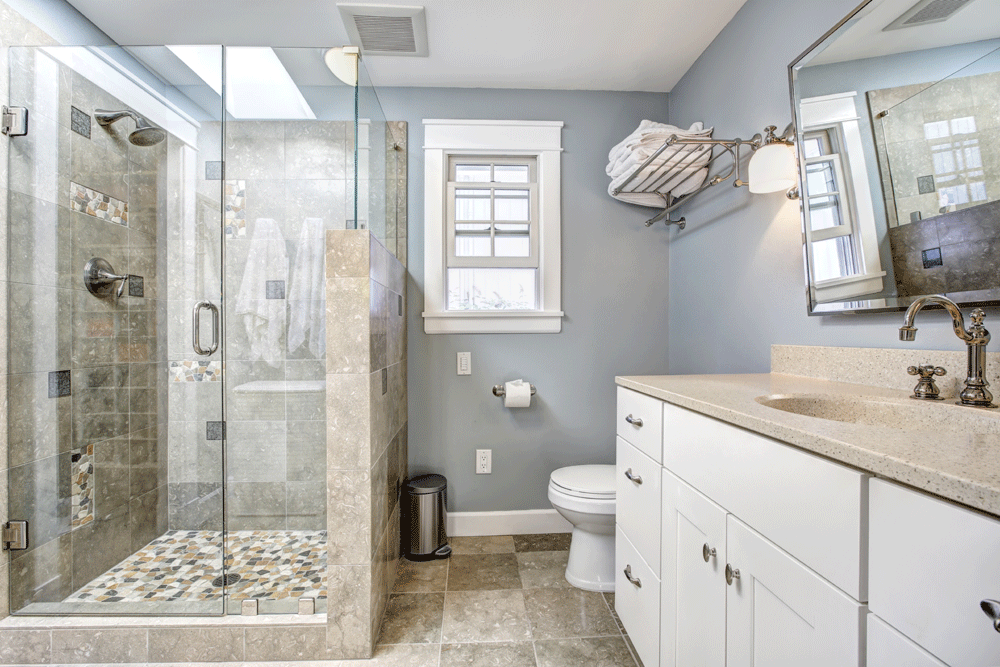 In many homes, especially older ones, one full bathroom is shared by the entire family. But as the need for another bathroom arises, homeowners must consider what to add. What is a half-bath, a three-fourths bath and a full bath, and what makes one a better investment than another? House & Home spoke with local experts to find out.
Definitions, please
Simply put, half-baths are typically "powder rooms" with a toilet and sink, and are located on the home's first floor, making them easily accessible, explains John Tyahla, principal at Westfield Kitchen & Bath. "This is the bathroom that most guests will see in a home," he says.
The three-fourths bathroom contains a shower area, vanity and toilet, and is normally located in a hallway, providing access to the surrounding bedrooms, says Tyahla. "The space for the three-fourths bath is typically 40 to 50 square feet of floor space, which includes enough room for a single or double vanity, the shower area and toilet."
Lastly, the full bath is usually found in or just off the master bedroom or hallway, says Tyahla. "A typical scenario for the full bath contains a single or double vanity, a toilet and a tub/shower to accommodate all these features," he says.
Value
The return on investment of these baths varies greatly, from person to person.
"Half-baths add value on a main living floor for guests, or as a second bath to allow for usage in peak times for a family," says Ben Weaver, general manager of Alderfer Glass.
Many see this as an important and useful addition.
"Powder rooms are essential in every modern home," agrees David Cerami, owner of HomeTech Renovations. "The half-bath can be for children or special guests and can give them their own respective spaces. You can have nooks for hair care products, storage, lighting. I suggest clients upgrade, make it fun, whimsical, personal. I tell them to use this opportunity to wow their guests. Aesthetic lighting, cool glass and finishes do that. I urge them to do something more challenging. Do a little extra with floors and walls," he says.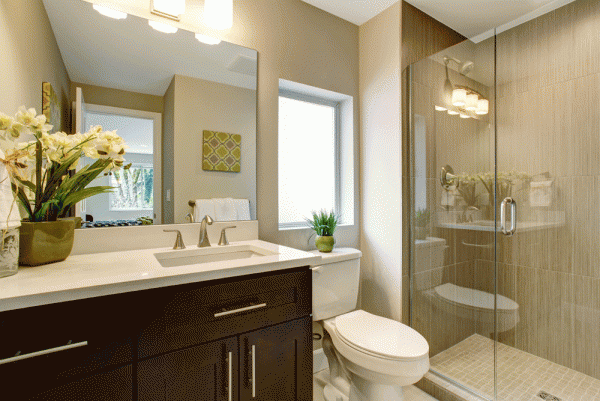 Other experts say to take the space one step further by adding a shower.
"A half-bath does hold great value by adding convenience to a house [but] when possible, a three-fourths bath is desired," says Mike Campeggio, director of sales at Kitchens Baths & Flooring by Floors Just For You. "In new bath installs, it is usually preferred to put a three-fourths bath in, but when only interested in adding a toilet to the space a half-bath is sufficient. The best option, if there is already a shower or tub in the house for space saving would be to go with a half-bath."
For small spaces, Weaver leans toward three-fourths baths since they offer many options for a guest. However, if you need a second bath and have no room, half-baths are fine—just considered incomplete since you'll still need a second bathroom to get ready in the morning. "Having a second shower in a home can be the difference between a livable situation for a family, or being difficult to live," he says. "This affects the potential for future buyers or the current owners' options."
Tyahla says that three-fourths baths are increasingly desirable since they can accommodate children as well as adults. "They are easily accessible to most locations in the home. They are also being designed larger, much more comfortable and sometimes with an integrated bench seat area," he says.
Doug Mottershead, CKD, of McHales Inc. says that many people are opting for showers instead of tubs, especially if they are empty nesters or people interested in aging in place. He adds that this trend is growing in popularity for all ages, as is adding special items once seen as for seniors only. "Every bathroom should have grab bars and the ones [available] today look really nice. They're good to have for any age," he says.
The full bath is the most common and most requested added bathroom size. "'Boomers' particularly like [full baths] as they assist them with the day-to-day needs of their children and growing families," says Tyahla. However, master or en suite bath rooms—often considered luxuries—are huge selling points. "It gives the homeowners the access to their own space," he says.
In the end, value is subjective. "A convenience is not missed until it's not there. If a fixture is needed, value always remains strong," says Dominic Linnenkamp, owner of Renew Remodeling. "[I think] three-fourths baths can have great value if another bath in the same house [has a tub]," he says. "[Also,] full baths need to have the necessary space to avoid a claustrophobic air that occurs when trying to fit too much in an inadequate space."
New needs
As the world changes, needs and wants change.
"Many houses, especially ones built before WWII, have small spaces. Homeowners want to know how these homes can be changed to accommodate needs," says Cerami. "Who will be using it? Two teens? One person? How long do you want to be there? I tell them, if they plan to be there more than five years, they'll get to enjoy it. They should do what they like."
"We see a lot of three-fourths baths and full baths in basement additions or renovations now," says Weaver. When you're adding the plumbing and infrastructure required for a half-bath, you may as well add a shower, he says. "This gives many more options for the household, or for guests, and boosts resale."
If you're limited by size, Tyahla suggests the Neo-Angle shower. These take up just two walls of the bathroom as compared to the standard size tub or shower that utilizes three walls. Another option is the comeback of the recessed medicine cabinet. "They are now becoming larger and more functional in tight spaces," he says. "Niches are another option. They are built into the interior of the wall, which allows more space for a smaller bathing area." Another space saver is the "pocket door," which allows for a larger vanity.
"When space is a factor, often a good design can be invaluable in achieving 'less is more.' What does a five-bedroom, eight-bath home have over a five-bedroom, six-bath home? Plenty, when the seventh bath is poolside and the eighth is part of the en suite above the garage," says Linnenkamp. "The best thing for resale is quality and good design."
And when you get to the design phase, there are many interesting items to consider, says Mottershead. These include CORETec, a laminate/vinyl flooring that looks like hard wood; warm floors with electric cables under the tiles; body sprays; rain showerheads; Jacuzzi whirlpools; and VibrAcoustic by Kohler, which brings music to the bathroom through soundwaves traveling via the water.
"Like anything else, it all comes down to the individual," says Mottershead.
RESOURCES
Alderfer Glass Company Inc.
Telford, Pa.
(877) 267-GLASS
AlderferGlass.com
HomeTech Renovations Inc.
Ft. Washington, Pa.
(215) 646-7477
HTRenovations.com
Kitchens Baths & Flooring by Floors Just For You
Turnersville, N.J.
(856) 432-6269
FloorsJustForYou.com
McHales Inc.
Levittown, Pa.
(215) 874-6655
McHales.net
Renew Remodeling
Morristown, N.J.
(410) 608-1399
RenewRemodeling.com
Westfield Kitchen & Bath
Westfield, N.J
(908) 232-3500
WestfieldKitchenAndBath.com
Published (and copyrighted) in House & Home, Volume 16, Issue 10 (April, 2016).
For more info on House & Home magazine, click here.
To subscribe to House & Home magazine, click here.
To advertise in House & Home magazine, call 610-272-3120.