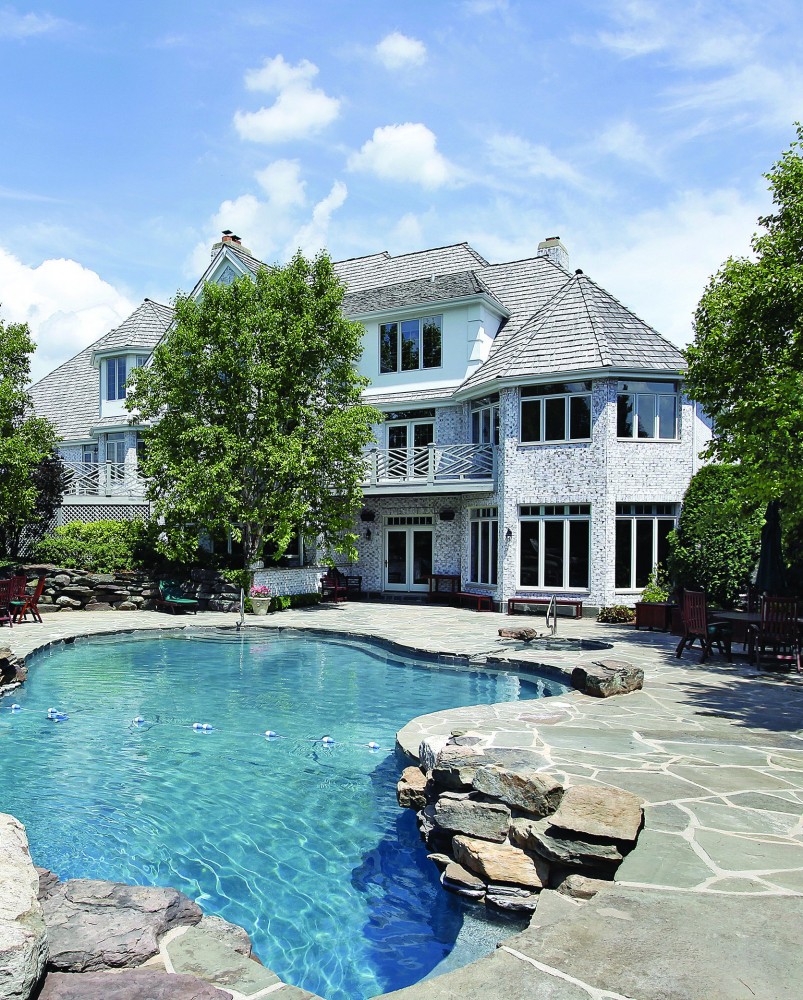 We're all daydreaming about summer—the sun, burgers on the grill, cold drinks and diving into the pool—so we decided to explore a few of the best outdoor projects in our area to add to the excitement. These photos are just a small sample of the skill and savvy required to bring a homeowner's vision to life, and show the wide range of possibilities you could incorporate into your own space.
"Del Val Pools and Spas is one of the leading custom in-ground pool builders in the tri-state area and excels with taking a client's vision and bringing it to reality. This unique and custom design features a pool and spa integrated into the principal deck structure of a home. Gunite and steel rebar were used to create this exclusive form with four in-water stools capped in granite facing a matching granite bar. A custom rainmaker adds elegance and separates this area from the main pool which features opulent mosaic tile and glass imprints, three custom bubblers and color-changing LED lighting. Nestled adjacent to the pool and completing this exceptional private oasis is a custom jetted spa. Fully automated, the pool, the spa and all features can be operated from one's phone or tablet."
Bryan Hull, co-owner
Del Val Pools & Spas
Sewell, N.J.
(856) 468-7665
Turnersville, N.J.
(856) 629-2999
DelValPoolsAndSpas.com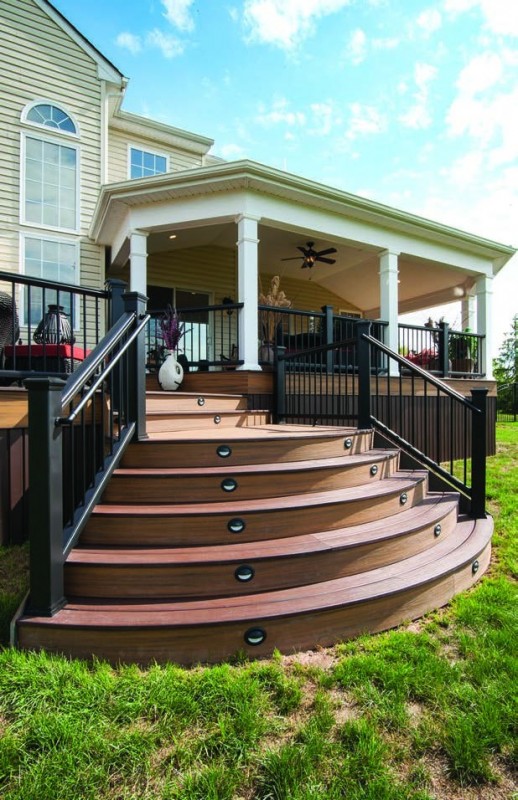 "We believe in expanding the 'heart of the house,' where people naturally gravitate inside the kitchen, a deck can be an outdoor living space where everyone can gather. Every outdoor project should have some sort of roof structure to shield you from the elements, and in the design you have to consider how the deck flows with the rest of the yard—from the back door down to the patio or pool. We consider every detail."
Bill Wilson, co-founder
Amazing Decks
Ambler, Pa. and Flemington, N.J.
(800) 220-3275
AnotherAmazingDeck.com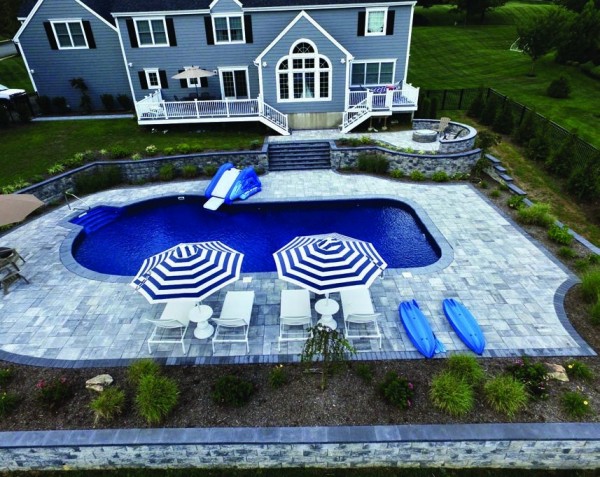 "This project was started by another contractor who didn't finish the job and left it in disarray. The homeowner was so disappointed in the other contractor, they took their trust in us and contracted us to come in and take over the job. We installed retaining walls, patio, coping, planting beds, plants and mulch. The homeowner was so happy that we did a professional job from start to finish.
"It was important to us to help this homeowner who put a lot of money in their backyard and was so put off from the first contractor that we wanted to secure their trust that not all contractors are like that. We can come into any stage of a project and complete it, making the customer happy."
Donald Panetta, owner
D. Panetta Contracting, LLC
(973) 659-9374
DPanettaContracting.com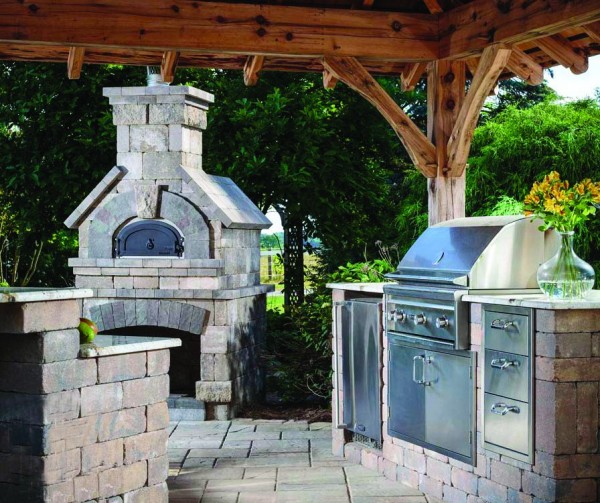 "At CKC, we focus on creating outdoor living spaces that homeowners can enjoy for years to come. Now is the perfect time to move the party outdoors and create a space that's perfect for cooking and entertaining. Built-in grills, outdoor kitchen island grills and outdoor refrigerators all come together to create a stylish and functional space during those months when you want to move the heart of your home outside."
Steve Compton, general manager
CKC Landscaping (Paver Restoration too)
West Chester, Pa.
(610) 436-1810
CKCLandscapingInc.com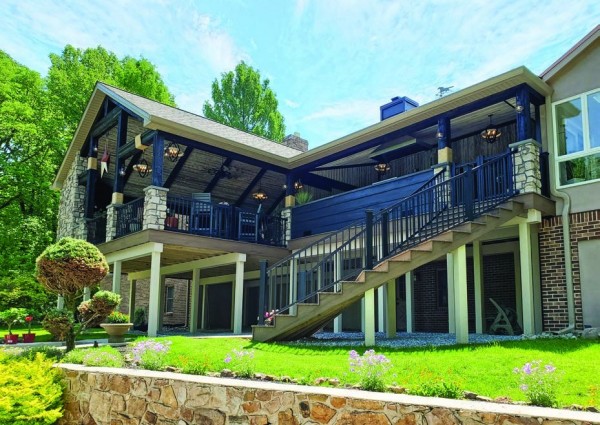 "Outdoor living is a passion of ours. Most of our staff enjoys being outside as much as possible, so the ability to create spaces for our clients to enjoy their own backyard is incredible! This project is a perfect example of seeing the need, hearing the want and designing the dream. We were able to pull this off by mixing form and function; giving the homeowners space to entertain, space to retreat and a space to call home. Somewhere they are excited to spend time, where memories are created that will last a lifetime. From design to build this project showcases our passion to bring life back outdoors."
Chris Novak
Keystone Custom Decks
East Earl, Pa.
(717) 355-0592
KeystoneCustomDecks.com
Published (and copyrighted) in House & Home, Volume 21, Issue 7 (March 2021). 
For more info on House & Home magazine, click here. 
To subscribe to House & Home magazine, click here. 
To advertise in House & Home magazine, call 610-272-3120.