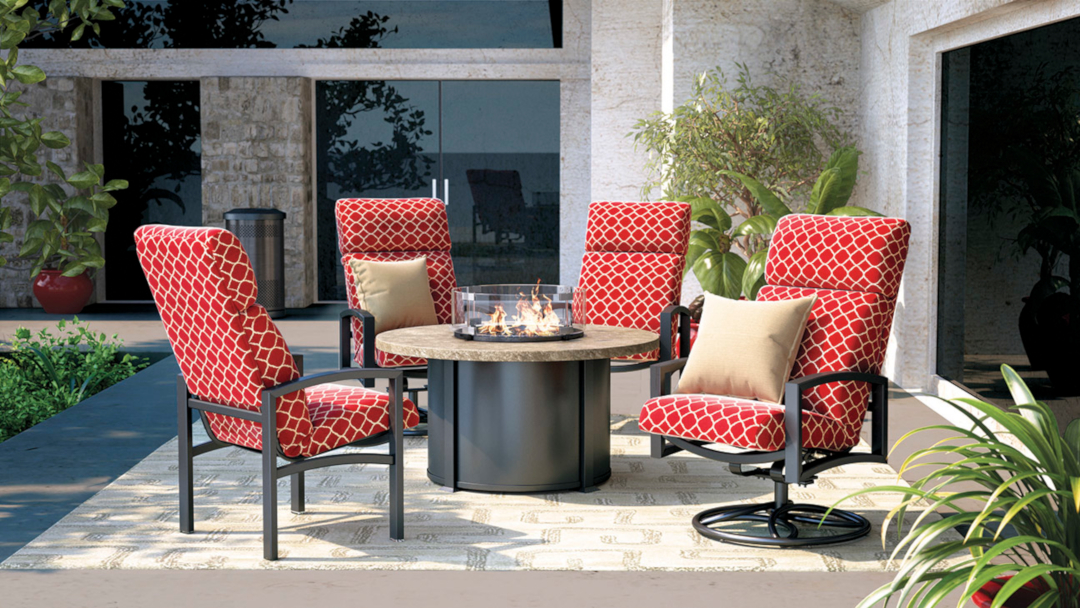 Living on the Jersey Shore means picturesque views and vistas year-round. Trying to mirror that beauty indoors can sometimes be a challenge. However, there are ways to update your Shore home with new furniture and décor that are also functional. Here, experts in the fields of design and furniture share their tips on how to successfully decorate with products and materials that will "shorely" endure the test of time.
Durability
Today's Shore homeowner is interested in furnishings that can stand up to the elements and don't need to be changed out every season.
Bobby Huber Jr. of Oskar Huber Furniture & Design says, "Natural materials are very popular and interior design trends are showing an increased emphasis on sustainable products with designs that are aiming for longevity and timelessness." He adds, "We are taking a responsible approach to design so our clients' spaces can 'live longer.' The designs are balancing historical elements in a modernized approach. Sustainable materials such as recycled, reclaimed and ethically sourced items are taking center stage."
Ed Valentino of 7Mile Design agrees, saying, "Products that I see being used, as well as using myself at the Shore, are anything that's maintenance-free such as fabric and carpeting that can be used indoor or outdoor. I use a lot of acrylics and olefin blends. They hold up very well to the sun, humidity, suntan lotion and food stains."
Longevity
Shore home furniture and décor not only need to be resilient; they also need to be long-lasting. Selecting the right products will help to preserve the overall life of the living space. Huber suggests, "Buying quality and having furniture made of solid wood and upholstered furniture with performance fabrics designed to keep up with your beach lifestyle is important to maintaining the longevity of the furnishings and preserving the coastal feel of the space."
Bruce Halpern, owner of Tropicraft Patio Furniture, advises the use of products made of high-density polyethylene (HDPE) saying, "That material can be molded to look like anything and it is totally impervious to weather."
Style Reboot
Some popular trends from decades ago are making a comeback in today's designs, with a few modernized modifications.
Slipcovers have greatly evolved over the years and can truly transform a space without breaking the budget. Ed Valentino notes, "Slipcovers are a great alternative. They aren't your grandmother's as we know them. They now come off in pieces for easy cleaning and don't have all the pleats and cording."
Another blast from the past is wicker furniture. All-weather wicker is incredibly durable. Over the years, design alterations have made wicker furniture so much more comfortable that many homeowners use it indoors as well as outdoors. Halpern says, "Man-made wicker is great because it will never rust. Its frames are made of the same kind of aluminum as your doors and windows so they can handle the elements for 100 years without falling apart."
Color Schemes
When it comes to paint choices for a chic beach house, "Neutral and natural shades never go out of style" says Huber. "Grey, beige, white and brown with warm or rich undertones along with natural earth tone colors are trending and creating a Zen-like feeling at home; greens have really become peoples go-to pops of color. This color pallet creates a peaceful environment–and brings nature inside."
Valentino has also observed this trend adding, "Color is being used differently in cabinetry, flooring and tile. Shades of green, aqua and blue from the lightest to the very darkest. I like the look of a handmade tile in rich tones. People are no longer playing it safe with a white kitchen, they are adding color to backsplashes, counters and kitchen islands. The classics like navy and white are still a staple in any Shore home as well as neutrals."
Current Trends
Creating a beach-themed space that is trendy and not tacky can be difficult for some homeowners. Regarding current trends, Valentino says, "Being on the Shore, I'm seeing cleaner lines in everything, more mid-century mixed with wood, metal and lucite."
He adds a main component for a stylish room is the décor. "Accessories are key for me in a Shore home. I look for art and more natural pieces like baskets, anything woven, and grass cloth. I also like the resurgence of wallpaper."
Halpern recommends using "light color choices for fabrics on darker furniture such as wicker to provide a nice contrast, making it more up-to-date while giving it a happy, 'vacation' look."
Indoor/Outdoor Living
"Since the pandemic, people are much more interested in outdoor living than before," says Halpern. "They are not only spending more time outside but they are also seeing that outdoor furniture can be just as comfortable as their upholstered indoor furniture."
Valentino concurs, noting, "The outside of a Shore home is just as important as the inside. I really like and use recycled plastic products that hold up to the weather. It's heavy and stays pretty much maintenance free. Outdoor carpeting, lamps and awnings all make it look lived in and beachy. Whatever color I'm using on the inside of a house I like to bring to the outside, so it all flows seamlessly."
Huber says, "Over the last five years we have seen a huge push on getting the outside to look as beautiful as the inside of the home. ... Outdoor furniture has come a long way over the last five years and the comfort, beauty and sustainability is awesome. Making sure you buy quality outdoor furniture is important especially along the coast as the salt air can wreak havoc on inexpensive outdoor furniture."
Inventory
Since the pandemic started, furniture inventory around the world has been drastically disrupted. A few companies, such as Oskar Huber Furniture & Design and Tropicraft Patio Furniture remain well stocked but Huber notes, "Supply chain issues are affecting production and shipping time of both indoor and outdoor furniture. Lead times are extended, and we encourage our customers to shop early to be able to enjoy the spring and summer season in style."
Halpern reiterates that saying, "We try to impress upon people that they should always order ahead so it's ready for the season."
Experts agree the key to updating your Shore home is taking the time to find the right materials, products, and decor that are able to endure the elements so you can enjoy your home as much as the Shore.
Resources
Oskar Huber Furniture & Design
Southampton, Pa.
(215) 355-4800

Ship Bottom, N.J.
(609) 494-8127
OskarHuber.com
Surfside Casual/7 Mile Design
Egg Harbor Township, N.J.
(609) 368-8800
7MileDesignFurniture.com
Tropicraft by Pavillon du Soleil
Ardmore, Pa.
(610) 645-5400
TropicraftPatio.com
Published (and copyrighted) in House & Home, Volume 22, Issue 3 (Spring 2022). 
For more info on House & Home magazine, click here. 
To subscribe to House & Home magazine, click here. 
To advertise in House & Home magazine, call 610-272-3120.