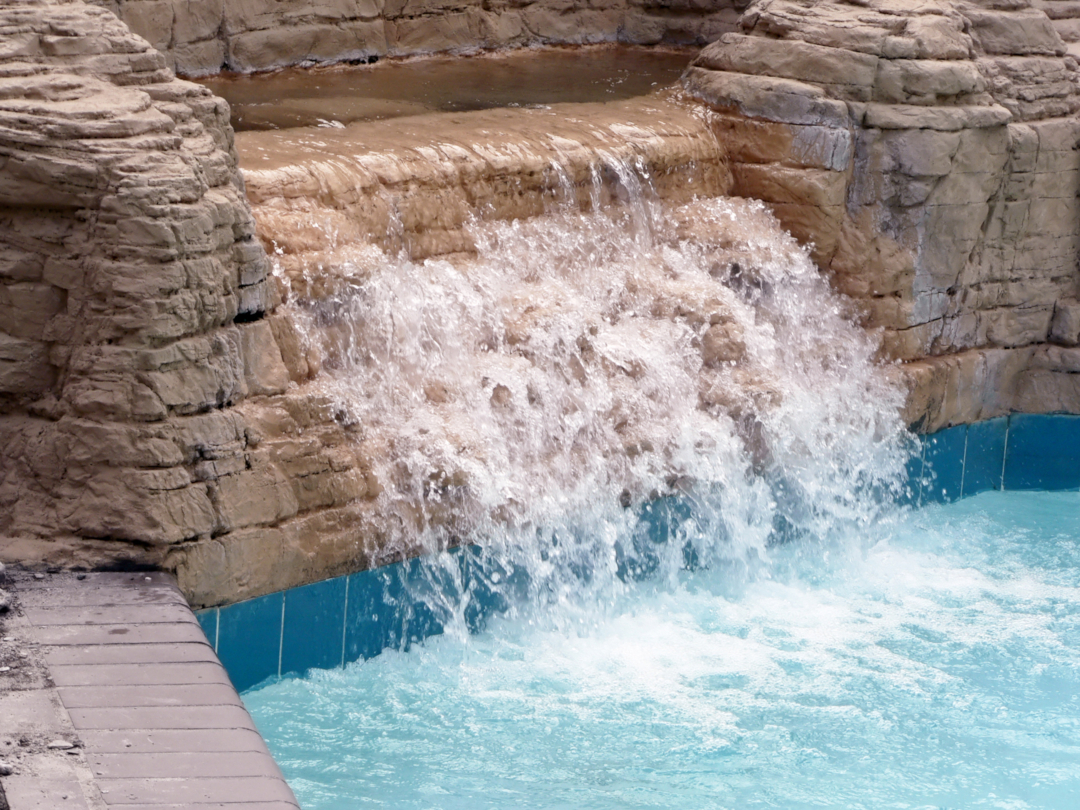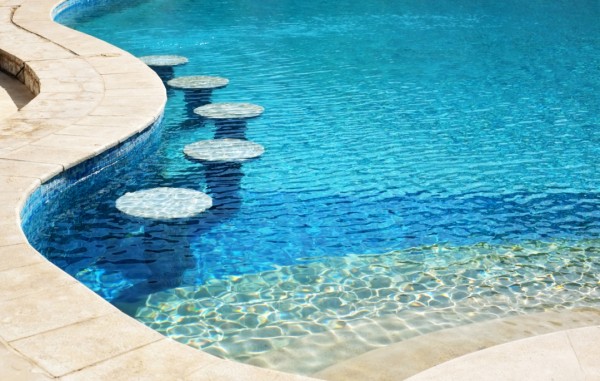 There's nothing quite like 'getting away' and going on a vacation at an all-inclusive resort. Let's face it: Swim-up bars, live waterfalls and sun decks are a few things we consider must-haves on our resort checklist. But what if we told you that you could save frequent flier miles and build a paradise of your own right in your backyard? That's a dream that pool experts are making a reality.
House & Home took the plunge into the deep end and spoke with pool professionals across the region about how to get your pool to the next level. With a resort and vacation getaway in mind, we find out what the latest trends in the industry are, what features you can add to your already existing pool and what must-haves—big or small— will have you soaking up the sun all summer long.
WHAT'S TRENDING
It's no secret that young families are looking to create a tropical paradise in their own backyards, and pool experts have taken notice.
 "Some of the biggest trends are the incorporation of add-ons like waterfalls, grottos and slides," says Michael Wimmer, vice president of design at Plantique  Landscaping. "Younger families want that 'resort' type pool feel with something fun for all ages. Attached spas and/or sun-shelves add comfortable but out-of-the-way areas for adults to enjoy while keeping an eye on the kids."
Accompanying that desire to serve the entire family's wants/needs with the pool, Wimmer says he is getting even more requests to fill the entire space of the landscape rather than have the pool stand alone. "Today, the pool space is more than just a destination in the backyard. With the addition of other outdoor rooms, the pool is a room of its own that has to 'look good' from other rooms even when [it's] not in use," Wimmer explains. "When it is in use, it needs to provide comfortable space for guests who aren't necessarily into sitting in the sun, or getting wet. That's a big reason why we're seeing the add-ons we're seeing —we  need to create a comfortable  space for everyone."
For Steve Yanulavich, owner and operator at Garden Patios, there are three major trends in the pool industry right now that have made a statement on the West Coast and have traveled east to our area.
 "To start, the shapes of pools are really starting to take on a modern look with more sharp edges and straighter angles," says Yanulavich. "Second [is]  introducing smaller LED lighting into the pool instead of one large light [in] the deep end. These lights are made from several manufacturers and are the size of half dollars so that you can [place] them in several different areas of the pool to give consistent light throughout."
And lastly, Yanulavich says the actual finish of pools is changing. Rather than your typical gray/white smooth plaster, homeowners are requesting pebble finishes. He says, "The pebble finish gives you an array of different colors and exposed aggregates to leave the home- owner with a final product to show off to family and friends during a pool party."
Keith Frederick, president and CEO at Environmental Landscape Associates, says the newest trends in the field are hyper focused on lifestyle and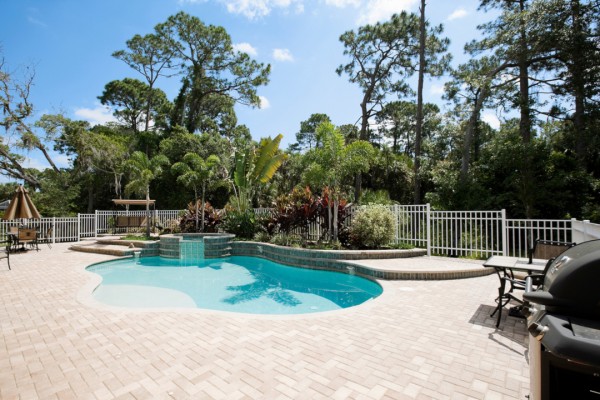 extending the season. "Incorporating outdoor  living areas throughout the overall design such as outdoor kitchens or grilling stations, separate dining areas and casual seating areas [has been popular]," he says. "[Adding] the use of pool heaters and spas is designed to prolong summer, but pool owners  are now asking for pool houses, cabanas, covered roof structures and wall/ceiling/freestanding heaters or fire features [to do that also]."
ADDING AMENTIES
Whether they are for functionality or flair, the added features to your pool are what transform a simple splash zone into something to be envied by neighbors.
Stephen Fahs, owner of Country Club Pools, says simplicities like a heater, salt system, variable  speed pump and automation can be added to existing pools  to increase how well it functions and for the homeowner to get the best and most use  out of it. He adds, "Salt systems make the water feel great and are really simple for the homeowner to maintain."
Adding to his sentiment, Dominic DiCesare, general manager at  Blue Haven Pools & Spas, Northeast, says the quality of the water counts the most when talking about amenities.  
 "There are features such as water purification systems that basically give you the quality of bottled drinking water in your swimming pool," DiCesare says. "We can also add a salt generator to that system so that you are basically swimming in the purest water possible. You're looking to have the cleanest pool water possible because that's what makes it refreshing; when it is sparkling and crystal clear and you don't feel like you are swimming in a lot of chemicals."
DiCesare also adds that they are doing a lot of waterfall areas, grottos, custom slides, sun decks and in-pool viewing areas for their customers.
And depending on the homeowner's budget,  they could add a top-of-the-line amenity—that even has tech gurus interested. "We are currently installing a spillover spa to a 26-year-old pool that will have the latest features  that the homeowner can control with his iPhone," explains Fahs.
Tom Casey, vice president of sales at Anthony & Sylvan Pools, says their homeowners are requesting  the addition of water features the most. "They add extra 'oomph' to an already wonderful  family gathering place," he explains. "They create an artistic showpiece where family and friends gather and are spectacular [looking even] at night."
"There are literally hundreds of options that a homeowner with an existing pool can add to take [their pool] to the next level. You can essentially add any of the attachments and features  that we install on a new pool," says Jeffrey Tierno, owner and field supervisor at Pools by Design. "There is no reason other than budget that changes can be made. From lighting to water features, saline systems to UV and Ozone to fully autonomous applications, there is no limit."
MUST-HAVES AND FINISHING TOUCHES
There is always a way to take an average pool and make it spectacular. Sometimes that comes from getting the one feature that experts are claiming is the  must-have of the season, other times it can be by adding the small touches that bring the pool to life.
Frederick says complete pool and home automation integrated systems are the must-haves of the season. He gives us an example:  "Alexa, please turn on the pool lights and spa jets."
But Tierno says either having a beach entry into your pool or a sun deck is the biggest must-have of the season for in-ground pool owners. "Add a little detail such  as umbrella stands and deck bubblers integrated along with some ambient LED lighting and you now have a feel of the resort pool without having to leave the comforts of your own backyard," he adds.
Casey adds that even simple additions can upgrade your overall oasis experience. "Backyard furniture,  decorations, lighting and, of course, pool toys, can all add the final touches to the perfect backyard resort," he says.
But if your idea of a finishing touch is a lot bigger, Don Panetta, owner of D. Panetta Contracting, says outdoor lighting, water features  and even pergolas and pavilions can help complete that resort feel that homeowners are trying so hard to accomplish. He adds that the company has been seeing a lot of requests for both barbecue areas and fire pits making it two of their musthave amenities.
Mike McCool, general manager  at Swim-Mor Pools, says there's no competition in musthave  amenities with the sun shelf. "It's a simple add-on that you can customize the size and shape. That has increased from being in 10 percent to now 90 percent of pools that are incorporating  something like that into them," McCool says. "To be able to have an umbrella with a little table and a couple of chairs inside the pool—just like when you go on vacation in Bermuda—you are doing that in your backyard now."
If you are thinking about getting  a pool, the professionals agree that you need to begin the process as soon as possible.
 "Start now because it is going to take two months to get some one in your backyard," says Panetta. "If you are  thinking about it then start the process now instead of the middle of the summer or you won't be able to enjoy it until next year."
RESOURCES
Anthony & Sylvan Pools
Doylestown, Pa. | (215) 489-5600
AnthonySylvan.com
Blue Haven Pools & Spas, Northeast Inc.
Serving Northern and Central New Jersey
(800) 219-2141
BlueHaven.com
Country Club Pools
Hatboro, Pa. | (215) 675-7550
CountryClubPools.com
D. Panetta Contracting, LLC
Serving Northern and Central New Jersey
(973) 659-9374
DPanettaContracting.com
Environmental Landscape Associates
Bucks County, Pa. | (215) 794-2400
ELAOutdoorLiving.com
Garden Patios Inc.
Quakertown, Pa. | (215) 953-7422
GardenPatiosInc.com
Plantique Landscaping
Allentown, Pa.
(610) 395-6940
Plantique.com
Pools by Design
Serving North and Central New Jersey
(973) 942-1211
PoolsByDesignNJ.com
Swim-Mor Pools
Mount Ephraim, N.J.
(856) 456-3332
Northfield, N.J. | (609) 654-7171
Millstone Township, N.J. | (732) 446-2211
SwimMor.com
Published (and copyrighted) in House & Home, Volume 19, Issue 10 (April 2019). 
For more info on House & Home magazine, click here. 
To subscribe to House & Home magazine, click here. 
To advertise in House & Home magazine, call 610-272-3120.