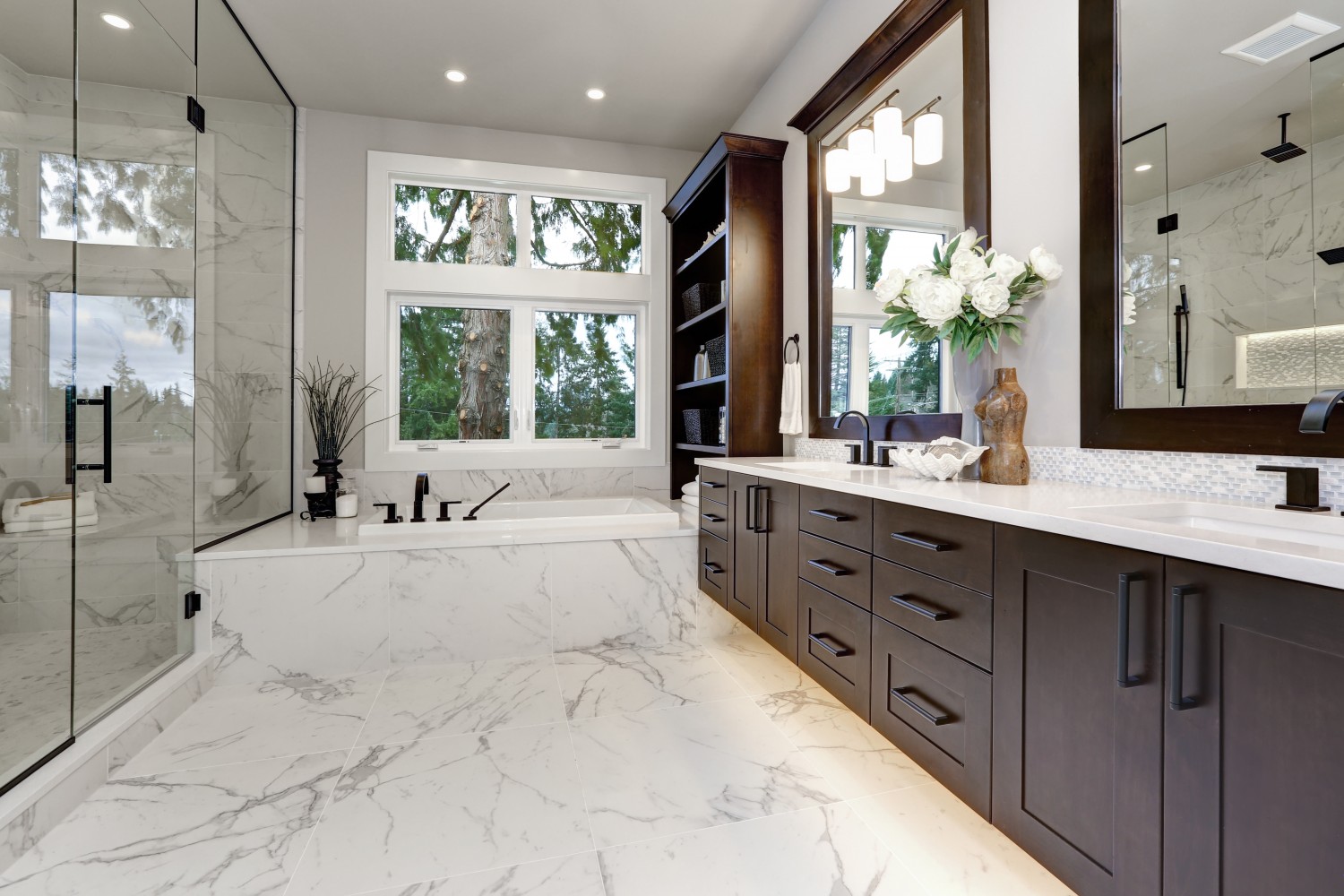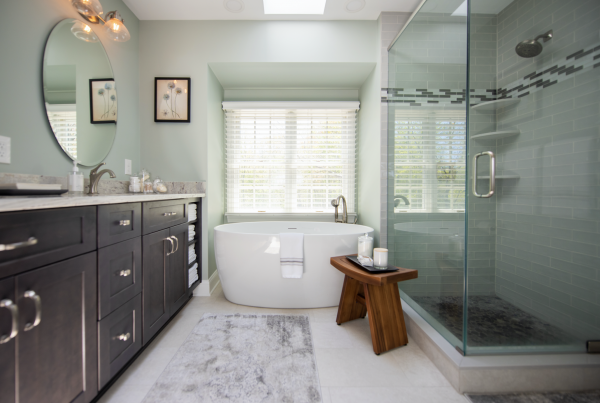 After staring at the same walls, fixtures and accents throughout the pandemic's uptick in time spent at home, homeowners everywhere have been overhauling their living spaces. Whether it's all as one big project or tackled room by room, kitchens and bathrooms have not escaped house-bound families' scrutiny and desire for an interior refresh. 
The area's experts took some time from their busy schedules to talk to House & Home about how clients can plan ahead for a smooth project timeline, managing expectations as supply delays are still creating a number of snarls along the way, and all the options available for lightly renovating or all-out remodeling two high-traffic areas on any budget.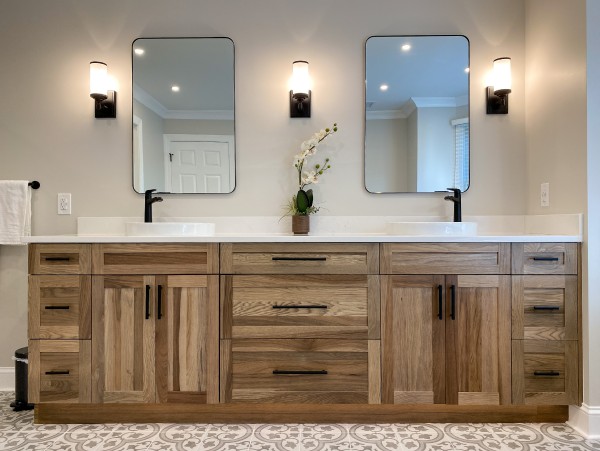 Beginning a Project
As the adage says, failing to prepare is preparing to fail, and home projects are no exception. While some clients are experienced at navigating the process, others are beginning their first foray into interior redesigns armed with only the knowledge that it's time for something new. 
Whether you're working with a one-stop shop or a dedicated expert in kitchens and baths, the team you're trusting with the job can ensure you stay within your budget while planning a new layout, establishing a timeline and providing all kinds of  expert insight as they bring your dream designs to life
"Construction is a journey," says Joe Sananes, who runs Cabinet Design Center with his wife, Yafit. "It can be fun and exciting, but it can also be overwhelming so you have to prepare a client mentally for the whole process. Hiring a company that will be transparent about that will help them be prepared for the journey and encourage them to look at their home like it's a blank canvas."
Whether that blank canvas will be filled in with new countertops and cabinets, a shower upgrade, customized accents, a full-scale remake or an addition, coming up with a layout design will help a homeowner visualize what their updated kitchen or bathroom will look like.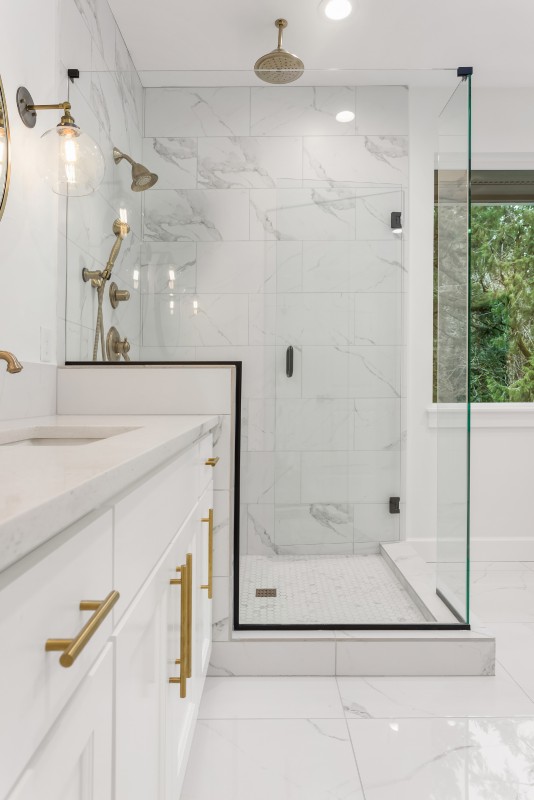 "We create a 3D layout on the computer so the customer can see a rendering of their new kitchen," notes Lorraine Sterl of Sterl Kitchens. "The custom layout/floor plan we create with the customer is based on the space they have available in combination with the use they have in mind. For example, [that could be] drawer bases, lift-up doors, spice racks, trash/recycling pull-out cabinets, islands, height of wall cabinets (from 30 inch to 42 inch, or stacked if desired higher), farm sinks, glass doors on cabinets, glass shelves, etc. There are so many options." 
While the end result of any successful renovation project is making a lived-in room feel like a brand-new space that's more in line with your current tastes or modern trends, getting there takes a tremendous amount of proactive communication from beginning to end. 
"You have to ask the client questions to find out what their wants and needs are, like if they're a retired couple, if it's for a family with a new baby or if it's a rental home," explains Denneen Guidici, designer for Floors Just For You. "There's usually an initial design consultation and, depending on the client, it gets handled in a few different ways. Sometimes we go out, measure the space, and then put together a quick design and estimate—there's so much involved that people don't always know how much it's going to cost."
No matter the scope of the project, managing a budget is one of its most crucial elements. 
"Set realistic expectations going into the project," advises JT Norman, product and design innovator at Kitchen Magic. "Budget depletion happens when the homeowner doesn't set a realistic and clear value for a quality remodel and product costs. … Choosing materials and items that fit your budget and allow for one or two must-haves that are within your budget allowance is key."
While some experts say that the ongoing supply chain delays are getting somewhat better, they remain an additional hurdle that homeowners will have to be cognizant of as their new kitchens and baths take shape. 
"In the last six months, our management and designers have recognized the impact of both the lack of trained workers available in the manufacturing sector, and the inability to source raw materials that are used in production of cabinetry," says Barry Tarzy of CabinetTree Design Studio. "We believe this state of the business will continue to cause delays in some clients' orders early into 2022."
Modern Options, Current Trends
David Cerami, owner of both HomeTech Renovations and Let's Face It, says that homeowners have a wealth of options when it comes to redoing their living spaces, starting with the scope of their projects. Let's Face It has offered refacing as a greener, less-laborious alternative to completely reconstructing a room, and is generally the preferred option for folks who love the bones of a room but love its dated details a little less.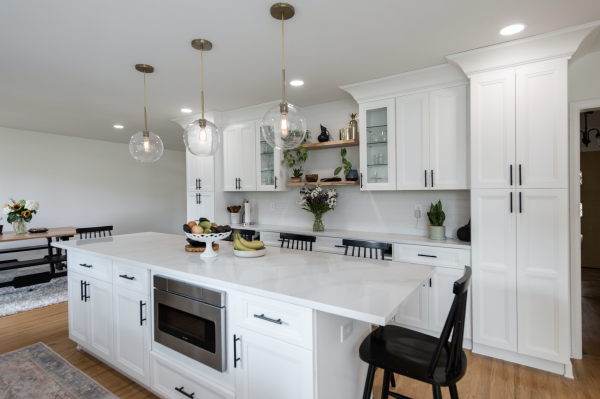 "We were one of the first companies to offer an alternative to the conventional approach of gutting the cabinetry and rebuilding the entire kitchen from floor to ceiling," he says. "Cabinet refacing is for homeowners who have a kitchen that mostly works for them in terms of its design, but they're tired of the colors, the door style, the hinging of their cabinets."
Even those homeowners who begin a project with the utmost confidence in their visions have been swayed by visiting a showroom to see their options for tile, flooring, countertops, cabinets, bathtubs, showers and more in-person and all under one roof. Actually interacting with the elements they'll potentially see every day for real-life assessments and comparisons is an invaluable asset to clients.
Spending some time in a showroom can also help illustrate just how many options there are for every budget.
"What I do is start out at a mid-grade bathroom and I let the customer go wherever they want to go with it," says Chris Hermann of Harmony Home Remodeling. "I give them a range of material pricing where I would say 'Your shower wall's tile can be $4 a square foot, your floor tiles are $3 a square foot.' If they want to go higher or lower, then I tell them they can go to my showroom, pick out what they want and then they pay the difference. … I can get anything they want in any material, so it's a one-stop shop."
Hermann notes that his company specializes in additions, and that "90% of the time, if someone does an addition, they'll want other work done." That could be anything from turning bathroom closets into smaller storage spaces with matching vanities, replacing outdated small tiles with much trendier large tiles, installing heated floors and replacing a second tub with the stand-up showers that clients are still clamoring for. 
Sophia Amiano, the design-build specialist at Amiano & Son Design-Build, adds that the freestanding garden tubs everyone wanted a few years ago are being replaced by cabinets and linen closets. She agrees that walk-in showers are still popular but that "the main focal point in any bathroom that I've been doing is definitely storage, as well as having that nice, spacious shower." 
But she says the most prevailing trend she's noticed, from the western Pine Barrens to the Jersey Shore, is an in-demand, versatile hue: "If 2021 had an official color, it would be navy blue," she notes. "I and the other designer on our staff have been doing a lot of navy blue kitchens. What's nice about it is that it can look a little nautical, it can look a little modern and it can look a little more sleek and almost glam." 
When it comes to outfitting those kitchens, Sterl says there is one countertop option that, hands down, delivers the biggest bang for your buck. "The best value for your dollar? Quartz countertops," she says. "They do not absorb bacteria or stains because they are non-porous, do not need to be resealed, are an extremely hard material, scratch-resistant, warrantied and very beautiful because they are made from natural quartz stone."
Norman observes that homeowners have been outfitting their kitchens with multitasking amenities like islands, desk niches customized for specific uses and pet stations, plus designated bar areas for a wine fridge, glass storage and entertaining. "Function remains vital to the way a kitchen performs," he says. 
Sananes notes that while Cabinet Design Center has been creating a lot of farmhouse-style kitchens with less-is-more vibes and clean lines. "Our job is to listen to you and look to the future while correcting any missteps—we are designers by trade so we try to create a timeless look," he says. "If you invest in an item, like a kitchen island, that's too trendy, you're going to get tired of it. So we encourage the customer to be bold, but with items that are easily changeable. It's not a big deal to change paint colors, but to change a cabinet would be." 
I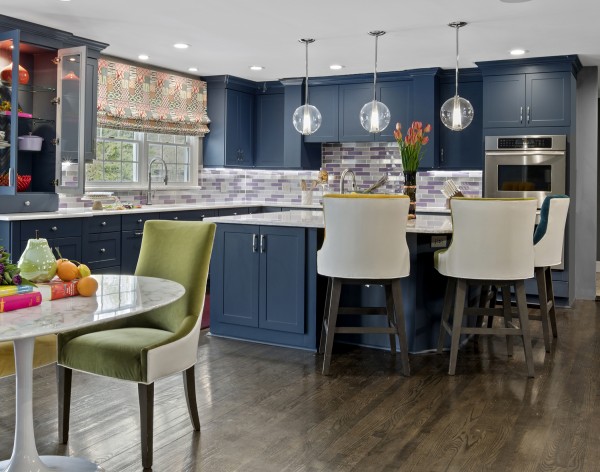 t's All About You
Of course, no matter the trends, every good designer and expert wants every customer to be happy with the kitchen and bath they'll be seeing, using and living in for years to come, which means using their expertise to bring those unique wants and needs to life—and without compromising your budget or settling.
"If you're looking for a very specifically styled or color cabinet, there typically are alternative solutions within the stock cabinetry lines," says Amiano. "Right now, stock cabinetry is probably a bigger seller than semi-custom. The stock cabinetry nowadays is beautiful, with these great options in styles and colors."
With so many options on the table, it's important for an expert to get familiar with your space before the project begins.
"Getting a free in-home consultation and estimate can be a valuable first step in the remodeling endeavors," advises Norman. "Kitchen consultants come with a list of ideas and will give you a solution and quote for what your budget will allow." 
No matter what direction you're taking your kitchen and bathroom, though, one of the best ways to ensure a project's success is to plan ahead.
"Order early to prevent delays in planned construction and kitchen and bath installation," Tarzy says. "Make sure you select and secure all plumbing and electrical fixtures ahead of time so that when it is time to install, everything is in place with no delay caused by lack of products. Couple cabinet delays with the availability of a qualified professional to install—it has become more important than ever to plan ahead."
The other, of course, is to enlist the help of quality, qualified professionals who know how to turn the spaces of your dreams into a long-lasting reality. 
"You get what you pay for," Cerami points out. "There are some very talented contractors out there, but they might not be good at communication or following up, they're not good with designs or suggestions that would yield a project that is flawless in the end. You wouldn't build a house without an architect or a plan; certainly, you wouldn't build out a significant kitchen without one."
RESOURCES
Amiano & Son Design-Build
Tabernacle, N.J.
Long Beach Island, N.J
(609) 268-5923
AmianoAndSon.com 
Cabinet Design Center
Voorhees, N.J.
(856) 545-3520
CabinetDesignC.com
CabinetTree Design Studio
Cherry Hill, N.J.
(856) 888-2220
Haddonfield, N.J.
(856) 354-9090
CabinetTree.com
Floors Just For You
Turnersville, N.J.
(856) 432-6269
FloorsJustForYou.com
Harmony Home Remodeling
Hatboro, Pa.
(267) 316-8636
HarmonyHomeRemodelingPa.com
HomeTech Renovations/Let's Face It
Lower Gwynedd, Pa.
(215) 646-7477
HTRenovations.com
Kitchen Magic
Nazareth, Pa.
(800) 237-0799
KitchenMagic.com
Sterl Kitchens Co. Inc.
North Bergen, N.J.
(201) 866-7999
SterlKitchens.com
Published (and copyrighted) in House & Home, Volume 22, Issue 1 (October 2021). 
For more info on House & Home magazine, click here. 
To subscribe to House & Home magazine, click here. 
To advertise in House & Home magazine, call 610-272-3120.