Thinking Outside the House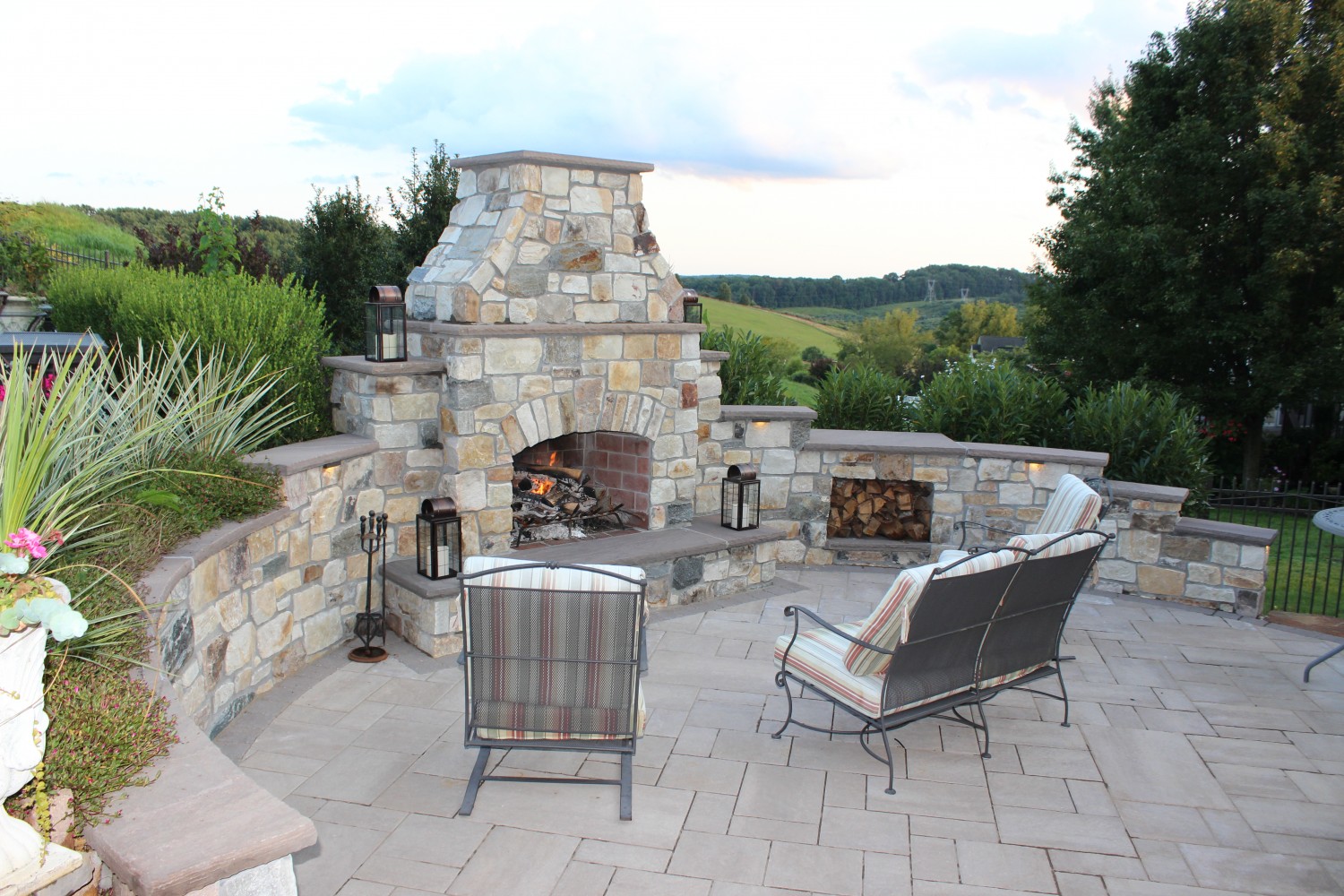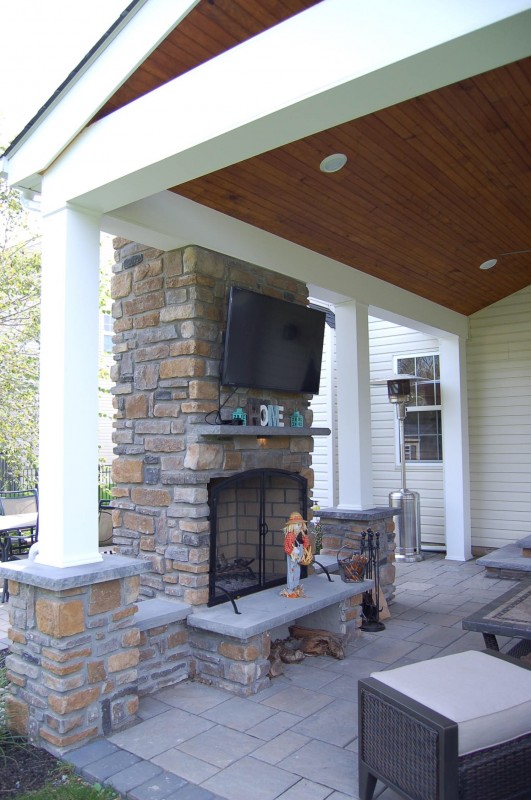 Though it may not feel like it quite yet, spring is just around the corner. And now is actually the ideal time to start planning your seasonal projects. Whether you're looking to add some new plantings or you have bigger plans in mind, by starting to think about these projects now and finding the right professional to partner with, you can maximize your enjoyment of these spaces by getting them completed early.
We spoke to some of the area's top landscape professionals and asked them for a few of their best spring planning tips. Here's what they had to say—as well as some photos for inspiration.
THINK YEAR-ROUND with Landscaping 
"Always add something that will have some interest during the winter months. It doesn't have to be an evergreen either. I love using colorful varieties like cornus 'red twig' dogwood, which provides a splash of red once it loses its foliage. Lavender and other herbaceous perennials or hearty liriope are great too and can be great additions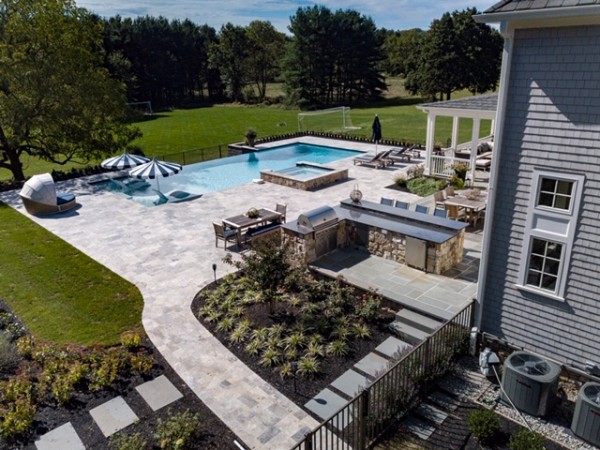 to beds along walkways or areas that require low-growing layering. For medium to taller layering and to provide structure, consider yews or schip laurels as a backdrop." ➻
Cameron Kennedy, designer, GROUNDTEC, INC.
"A common mistake that people make in the spring is to overload the property with lots of brilliant, beautiful colors that are currently in bloom. The trouble is, when July and August roll around, it gets boring because nothing is in bloom. It's easy to get 'wowed' by what's out there but if you lean on a landscape professional, they can help create a plan so that there is always something in bloom or providing interest. That even includes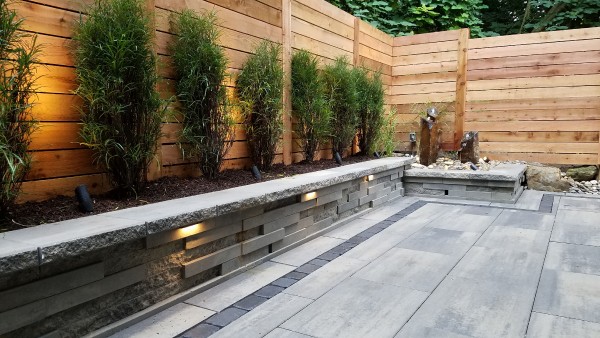 winter interest. It all comes down to planning."
Steve Compton, general manager, CKC LANDSCAPING
PLAN NOW for Hardscape Designs
 "My best piece of advice is to make decisions as quickly as you can. This is important for a few reasons. For one, even though we are in the offseason, we can apply for and obtain any permits or special permission that may be required in order to construct the project so that we are not wasting the good working months on this. Second would be to take advantage of the mild winters we may have and actually get a jumpstart on building during the off-season. You should start planning as soon as the idea has interest. This will also ensure that the project is more likely to start on time and is executed in the most efficient way." 
Christopher Bianciella, principal, K&C LAND DESIGN AND CONSTRUCTION, LLC
 "The best time to start planning your spring hardscaping project is late fall or winter. This way your designer can have plenty of time to ensure the space fits your needs and incorporates all the necessary elements into your project. You should collect inspirational photos and send them to your landscape designer, this way when we provide building material options, we have a good starting place. Write down the things you could envision you and your family doing in the backyard, and we can design around the activities and needs of your family."
Cameron Kennedy, GROUNDTEC, INC.
Outdoor Living Rooms REIGN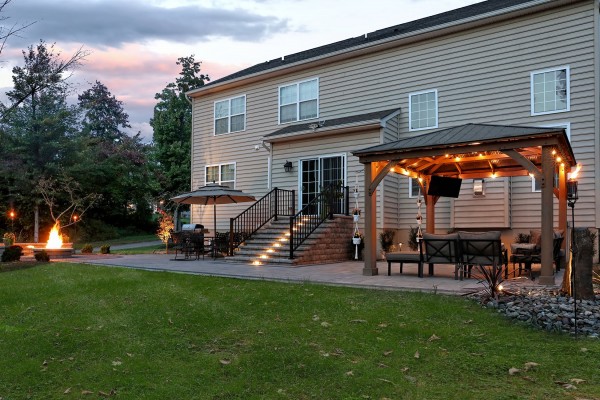 "Deck/patio combos with clean lines and privacy walls or landscape screening seem to be a feature that we are seeing more and more of. We design the outdoor living space as just another room in the house, with use of space being the primary factor. We want to ensure the client will be able to utilize the space as much as possible and that entertaining or relaxing outdoors is a breeze.  In terms of color, warmer/softer tones are coming back as grays and monochrome colors are losing their popularity."
Cameron Kennedy, GROUNDTEC, INC.
 "There's no question that outdoor living spaces continue to be the biggest trend. I tell people to take the heart of their home and move it outside. Whether that's the kitchen, the family room or the dining room—people want to recreate these gathering spaces outside and have them designed and installed in a way that makes them fully functional. Now, people also want to add roofs to these spaces. It allows them to use the space even if it's raining. They can be outside enjoying their fire feature and their outdoor television in the rain or snow if the space is covered— and people love that."
Steve Compton, CKC LANDSCAPING
LIGHT IT UP!
 "Lighting will always be a big trend that will never go out of style. As mammals we are instinctually drawn to light! But from a functionality standpoint, it makes the space useable in the evening hours, which is important to people. When you invest in an outdoor living space, you want to get as much use out of it as possible. It's important that landscape lighting is done well. Hire someone who knows how to provide safety and security through lighting while also making it aesthetically pleasing. That means highlighting certain features of the landscape with soft lighting or uplighting certain trees. There's an art to it."
Steve Compton, CKC LANDSCAPING
Don't Forget THE FRONT!
"People are paying more attention to the front of their homes as well, and installing welcoming front entrances, outdoor lighting and motor courts rather than boring sidewalks and asphalt or concrete driveways."
Cameron Kennedy, GROUNDTEC, INC.
RESOURCES
CKC Landscaping
West Chester, Pa.
(610) 436-1810
CKCLandscapingInc.com
GroundTec, Inc.
Colmar, Pa.
(610) 525-5352
GroundTecInc.com
K & C Land Design & Construction
Serving all of North and Central New Jersey
(908) 769-7283
KAndCLandDesign.com
Select imagery courtesy of CKC LANDSCAPING, GROUNDTEC, INC., and K & C LAND DESIGN & CONSTRUCTION.
Published (and copyrighted) in House & Home, Volume 20, Issue 8 (February 2020). 
For more info on House & Home magazine, click here. 
To subscribe to House & Home magazine, click here. 
To advertise in House & Home magazine, call 610-272-3120.